Whilst working at Aviva I co-lead the redesign of the Business side of the UK website. The main objective of this re-design was to make all of the information easier for customers to understand, prepare them for the upcoming auto-enrolment and help SME's. Aviva's core values are 'Care More', 'Kill Complexity', 'Create Legacy' and 'Never Rest', these values all went into this design and the outcome we wanted to create for our customers.
Aviva's UK site is split in to two - personal insurance (car, life e.t.c) and business insurance (pension, healthcare and business property and vehicle insurance). The business half of the site prior to this was really outdated and content heavy so we decided to take a much more simplified approach whilst using the new Aviva Framework (Aviva's new style guides, another project I was involved with and was a brand guardian).  The stakeholders wanted to make sure the site was restructured from a UX perspective and brought in line with the new standards whilst still being unique.
Other team members involved with this project: Christina Binou (Design), Pradip Khekare (UX), Samantha Dennis (Copywriter), Luke Barnes (Developer) and of course other members of the wider agile team. I have chosen images that best reflect my contributions to the project and specific pages I worked on.
Above is the design I created for the 'Auto Enrolment Knowledge Centre' web page which was a hub for lots of content pieces to help businesses understand auto enrolment and their responsibilities. Auto enrolment into pensions became mandatory for UK businesses and essentially meant that every business had to auto enroll eligible employees into a pension scheme unless they asked to opt out. Due to this being very new we felt we had a great opportunity to educate businesses about what auto enrolment was and what changes they would have to make by the deadline. It was greatly appreciated by many SME's and we had fantastic feedback. This really shows Aviva's commitment to 'care more' about their customers (even though this hub was accessible to anyone who visited the website).
The 3 sections of the site were split into 3 colours. Healthcare was dark green, pensions were teal and business insurance was a navy blue. This helped create differentiation between the 3 products yet consistency across the site. The page above was a redesign I did for 'Private Health Insurance', previously the page had been a UX nightmare and was so content heavy. Due to the product changing depending on whether you wanted cover for under or over 250 employees I opted for a divide at the top that let you choose what you were looking for, and once selected then altered the page content to reflect your choice.
BELOW: The old page designs. They were in a dated 3 column structure and were incredibly content heavy. The content was not split into easy to understand sections and there was no page hierarchy.
The two images below show the new design I created for the Healthcare homepage alongside the old one it replaced. As you can see the new design is much cleaner and more modern and has a clear hierarchy.
Below is a page design I created to break down the different types of workplace pension and the options that customers had. This page was used as a template for other pages because of the way it clearly broke down larger amounts of copy. It really helped to 'kill complexity' for our customers!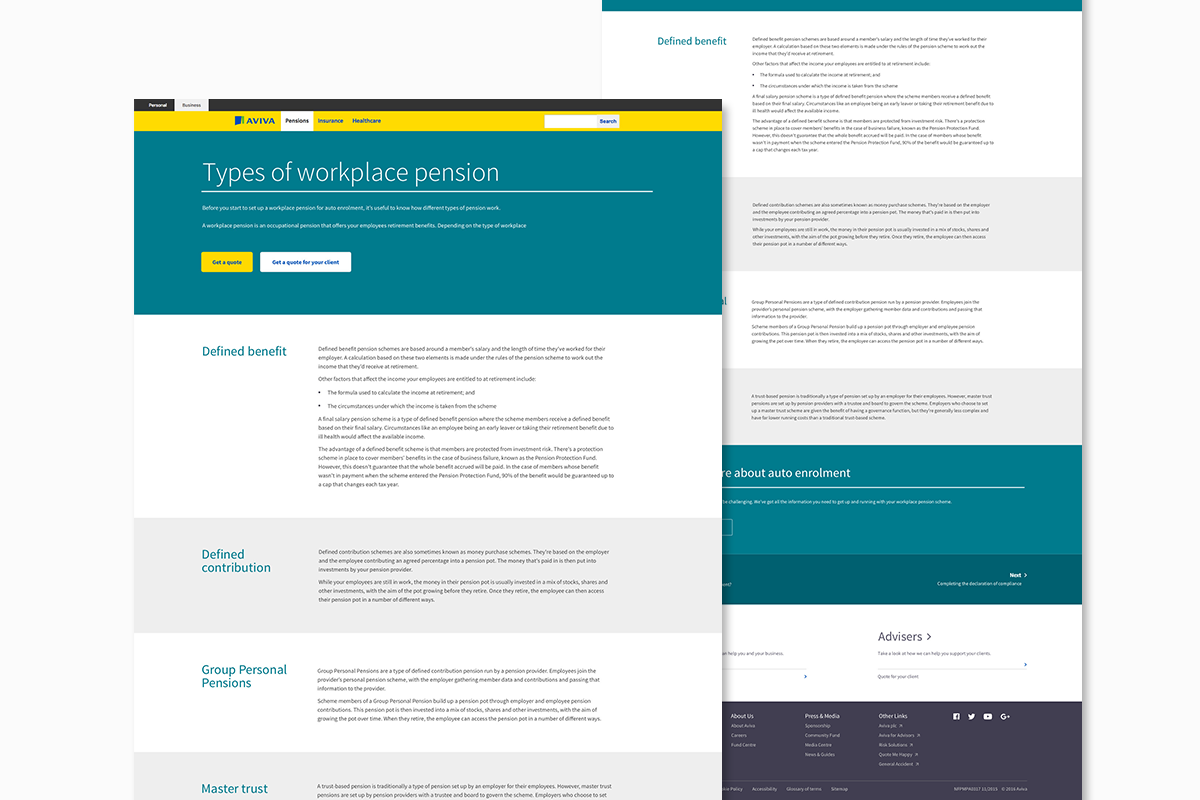 This redesign helped to transform the Business Insurance side of Aviva and truly allowed it to compete with other UK pension providers, especially when it came to the many new customers auto-enrolment went on to bring. We saw bounce rates drop by 35% on some pages, a truly incredible result and overall customers commented on how much easier content was to understand and navigate around. This redesign set fantastic foundations for what the business site has become today, it has obviously evolved as business needs have evolved but it remains much as we first re-designed it and it was a wonderful achievement.